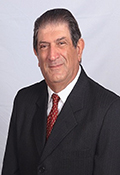 Joseph Aris
josepharis@eliteinternational.com

(786) 651-6399

Realtor Associate
Medical Director for over 10 years in Brazil.
Bachelor's and Physician graduate in 1974 – PUCSP UNIVERSITY- SOROCABA-SP.
Listings throughout South Florida offering purchase or lease opportunities in every sector of the mark
Owner/Operator chain of 5 clothing stores and Manufacturer of Knitted Clothing.
Owner/Operator 4 years Restaurant ownership.
Owner/Operator for 6 years Miami Gasoline/Convenience Store in multi-store operations.
Extensive experience in financial analysis and deal assembly in Miami.
Access to diverse marketing resources.
Extensive database of Buyers and Investor Contacts.
First-rate service, integrity and ethics.
I am an Associate at Elite International Realty, one of Miami's most exclusive Real Estate companies. Elite is a boutique firm with a history that spans for almost three decades helping its customers make the home buying and selling experience pleasurable and convenient by building relationships based on trust, respect and mutual understanding.