Carraba's Triple Net (NNN) Commercial Property
Jacksonville, FL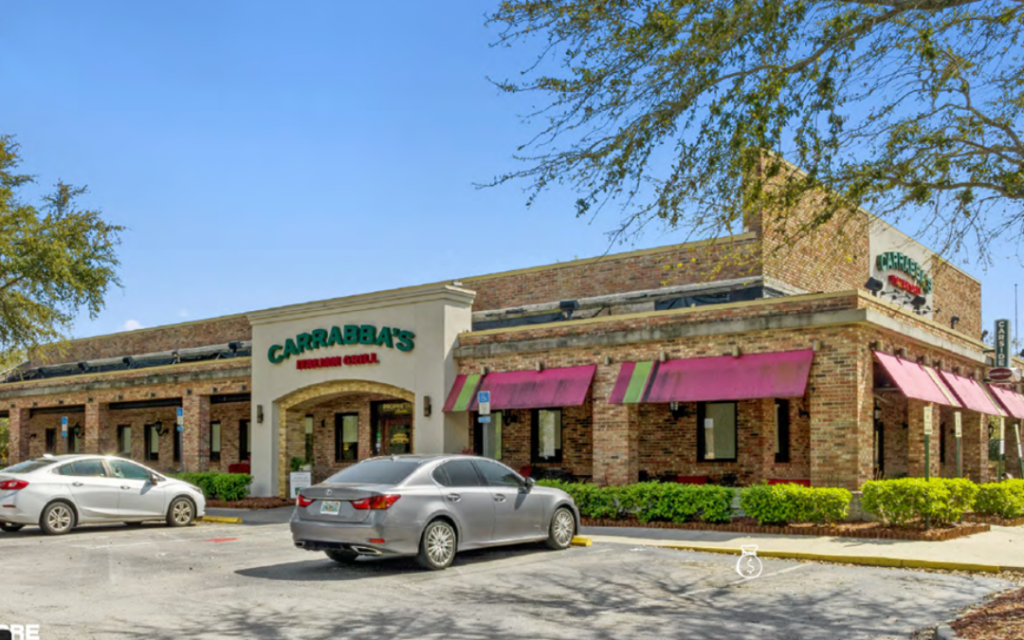 Price/Precio: US $3,975,936
CAP/Retorno: 6.00%
Building Area/Área de Construcción: Approx. 6,688 Sq. ft = 621 m²
Lot/Terreno: Approx. 77,101 Sq. ft = 7,163 m²
NOI/Ingreso Neto: US $238,556
Annual Expenses/Gastos Anuales: NNN Tenant is responsible for all expenses including property tax, insurance, and maintenance. | El inquilino es responsable por todos los gastos incluyendo impuesto predial y seguro.
Contract Terms/Términos del Contrato de Renta: 9+ years of contract remaining until 03/31/2032. | 9+ años de contrato restante hasta 31/03/2032.
Increases/Incrementos de Renta: Rent will increase annually by the lesser of (I) 1.75%, or (II) 1.7 times the CPI increase. | El alquiler aumentará anualmente en (I) 1.75% o (II) 1.7 veces el aumento del IPC, lo que sea menor.
Extensions/Extensiones: Four (4), Five (5) year options. | Cuatro (4) opciones de Cinco (5) años.
Guarantor/Garantizado por: Bloomin' Brands, Inc. (NASDAQ: BLMN; S&P: BB-) is one of the world's largest casual dining restaurant companies with approximately 1,500 restaurants throughout 47 states, Guam, and 17 countries. The company operates restaurants through a portfolio of leading, differentiated restaurant brands including Outback Steakhouse, Carrabba's Italian Grill, Bonefish Grill, Fleming's Prime Steakhouse & Wine Bar and Aussie Grill. Bloomin' Brands reported 2022 revenues of $4.42 billion and net income of $101.9 million. | Corporativo con más de 1,500 restaurantes en 47 estados de la nación y 17 países.